One of the most important services you can get to maintenance your car, truck of SUV's optimum running condition is an oil change. Vehicle engines have a lot of moving parts and when your engine runs, these parts rub against each other creating friction and that produces heat. The oil in your engine lubricates those parts and helps absorb that heat. As you drive that oil breaks down.  An oil change, using clean, quality oil, reduces wear and tear and extends the life of your engine while keeping it in top running condition and can even help your gas mileage!
Determining what kind of oil is recommended in your vehicle can be found in your owner's manual but at Fort Collins Mopar Express Lane, our trained Service writers will help your determine what is best for your vehicle based on its age, mileage and your driving habits. Sometimes using full synthetic oil can help performance on an older vehicle.
At Fort Collins's Mopar Express Lane we not only get your oil change done fast, more importantly, but we do also it using quality parts and oils. Our certified technicians work on all makes and models and use Mopar®  parts if you have a Dodge, Chrysler, Jeep Ram or Fiat, or Magneti Marelli if you drive another brand. In both cases the parts used are built to the exact specifications for your vehicle's make and model.
Our oil changes are always priced competitively!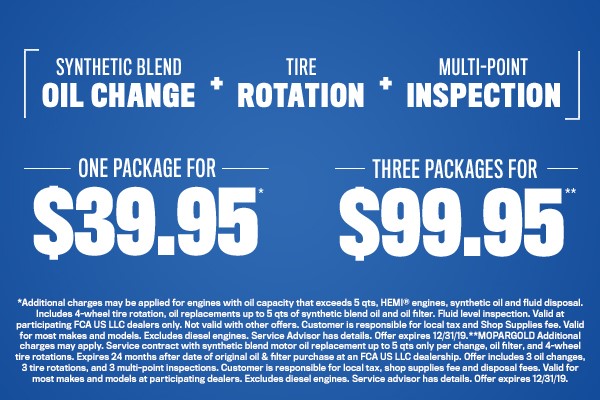 Fort Collins Synthetic Blend*
Fort Collins Full Synthetic Oil*
All Work is Warrantied!