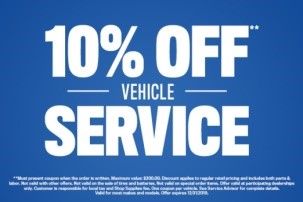 Express Lane certified technicians repair and replace disc brakes and drum brakes for your car, truck or SUV. Be assured our facilities will use quality parts built to spec based on your vehicle's manufacturer specifications, no matter the make or model.
Like other vehicle parts, brake pads and drums wear out as you drive. There are several components in your braking system and normally the brake pads and shoes are the first things to wear out before other braking components get damaged. Regular brake pad changes are simple, smart and will save you costly repairs down the road.
If you are unsure if you need brake services, Express Lane can do a visual inspection that should identify obvious repairs or replacements that are necessary. However, if your vehicle exhibits any of the following symptoms a brake inspection should be done quickly to ensure your vehicle can safely brake:
Brakes squeal, squeak or grind when coming to a stop
Wheel noise while driving
Vehicle pulls to the left or right when braking
Steering wheel shakes or vibrates when brakes are engaged
Excessive brake dust forming on wheels
Brakes need to be depressed more than usual in order to stop
Express Lane Full Brake Service:
New brake pads or shoes installed
Brake rotors or drums resurfaced
Brake fluid flush & replacement
Brake calipers and/or wheel cylinders installed
Brake Services & Repairs:
Brake pad or shoe replacement
Brake rotors / drums resurfaced
Brake caliper & rotor re-alignment
Brake caliper replacement
Brake hose replacement
Brake master cylinder replacement
Get a free visual brake check at either location in Fort Collins, anytime! Just stop in, no appointment needed.
All Work is Warrantied!