WE'VE MADE CHANGES TO MAKE VEHICLE SERVICES SAFER AND MAXIMIZE SOCIAL DISTANCING
During this uncertain time, we want to insure the protection of our valued customers and employees while providing the vehicle services you rely on. Please note that all vehicles' driver-side areas will be protected with FCA fitted covers while in our possession including steering wheel, driver's seat and floor area. After work is completed covers will be removed and door handles, gear shifter, console/arm rests and key fob will wiped down with sanitizing products prior to returning to you.
SERVICE - (970) 226-5340 - HOURS: MON - FRI/7:30AM - 5:00PM
Our Service Department is operating at full capacity, and FCA is supporting parts operations and normal delivery schedules
Service Scheduling / Loaners & Rentals
You can book your appointment with our online service scheduler or by calling
Vehicle pick up and delivery is now available within a limited geographic area. Please call to schedule this service
We have a fleet of vehicles used as loaners and rentals, please call to confirm availability when booking your appointment
No Contact Vehicle/Key Drop Off
Park your vehicle in the spaces located near our Service entrance. There is a key slot system that you may use if you prefer to not enter our Service Department. Just complete all information on a provided envelope, sign, seal keys inside and drop the envelope in the drop slot located on the service entrance. While typically used for drop offs outside of business hours, we will be checking the drop slot all day to give customers the option of a no-contact drop off. We will contact you as soon as we get your vehicle checked in to ensure we are performing the proper services or diagnosis.
Curbside Check in
Alternatively you can drive to the service entrance area and a Fort Collins Dodge Chrysler RAM employee will meet you, take your information and take your vehicle into the building for service.
Auto.Live Online Service Communication
Our system, Auto.Live, makes it easy for us to effectively communicate with you about your vehicle inspection, diagnosis, and maintenance requirements. We can upload pictures and videos of necessary repairs or maintenance items so that you can make an informed decision from the convenience of your smartphone or laptop. You can approve or decline, pay online, and text with your service advisor about your vehicle service.
No Contact Vehicle Pickup 
Once your vehicle is completed and you have paid either online via Auto.Live or over the phone, our staff will park your vehicle where you can find it. After removing FCA covers, we will wipe down contact surfaces including steering wheel, door handles, gear shifter, console/arm rests, dash buttons and key fob, then lock your keys and paperwork in the vehicle. *You will need to have 2 sets of keys, so we can lock 1 inside your vehicle.
VEHICLE SALES - SHOWROOM IS OPEN PLUS STORE TO DOOR SERVICE- (970) 632-9770 - HOURS: MON - SAT/8:30AM - 8:30PM
Our showroom is now open however you still can complete the purchase of a new or used vehicle online. Our Sales Consultants will communicate with you by email or phone and provide vehicle pricing, lease and/or finance payments, terms, as well as guaranteed online trade-in appraisals. We will prepare your paperwork and have it delivered to you. Finally if you prefer to have your vehicle delivered to your home, it will be sanitized by the driver upon delivery. Shop Online
Due to the current circumstances, incentives are extremely strong, like 0% APR financing for 84 months on many models and no payments for 90 days on all models. We are updating our specials page to reflect these new incentives as they become available.
PARTS - (970) 267-5048 - HOURS: MON - FRI/7:30AM - 5:00PM
You can order parts by phone or online and when you arrive just call us and we'll bring your order out and place it in your vehicle's cargo area, or area of your preference.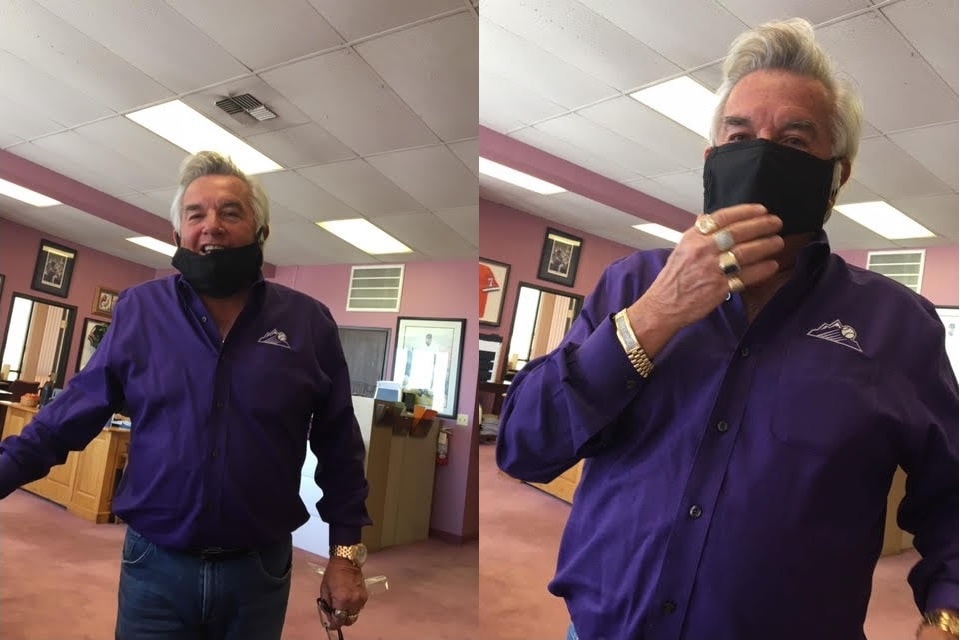 On March 25th, Doug Moreland wrote a letter to all employees stating the following:  "I wanted to assure you that our goal is to be here for you, to make sure you can continue to earn an income and can take care of your family. We do not plan to make drastic changes and are doing everything we can to maintain your livelihoods."
Since then, other large dealer groups have furloughed a significant portion of their staff. Dealin Doug team members, on the other hand, have expressed their gratitude for Doug's commitment to retaining his employees. 
Here is what one had to say: "I want to give a HUGE thank you to Doug for answering a lot of questions we had concerning our job security. I am so grateful to be working here!!!! What a blessing! I am continually praying for this company and my coworkers. You have been totally amazing through this trying time. We just keep smiling and putting our faith and trust in the Lord. Thanks again!!!!"
Recently, Doug was approached by a vendor who said he could save money by using an automated receptionist/attendant at each of his 12 locations. Doug replied: "What? I am NOT going to fire my receptionists!"
At a time of so much unemployment news, furloughs, and hundreds of people being laid off, the culture of the Dealin' Doug Dealerships is the great differentiator!  We are a family-owned and operated business since 1980 taking care of our customers and committed to our employees.  For over 40 years and counting - in good times and in bad - Nobody beats a Dealin' Doug Deal!  If you have that same winning attitude and want to join our family - we are always looking for good talent! 
Thank you for choosing Fort Collins Dodge Chrysler RAM and Stay Safe!